Getting a divorce in Columbus, it is crucial to consider your options and find out which one suits your individual case best. You need to be familiar with the divorce process in Georgia in general and in your county in specific to file and properly finalize your case, regardless of whether you are hiring a lawyer to help you.  
What to Consider When Going Through a Divorce in Columbus?
There are a lot of aspects to consider before the divorce. First thing first, you need to talk to your ex-husband or wife, even though it can be hard or problematic. The ability to reach a peaceful agreement is vital in this case because it will give you an opportunity to file for an uncontested divorce.
You should attempt to settle down all the disputes concerning matters related to your children, assets, and alimony if any of you were planning to request it. If there are issues that prevent you from coming to an agreement, you may hire a mediator to help you resolve your differences amicably. In case no communication is possible, you will have to hire lawyers and go through a lengthy contested case.
How Quickly Can I Process My Divorce?
It depends on the type of divorce you plan to file for:
If you want to get a quick divorce, your only option is an uncontested one.
Uncontested divorce in Columbus requires spouses to settle on specific decisions regarding their marriage dissolution and present them to the court. Georgia waiting period for divorce is 31 days, and it's necessary to get past it to get a final hearing. Depending on the caseload of the court, it might take around 1,5-2 months to finalize the case.
With a contested option, the whole process gets not only harder but also longer.
If you cannot settle your disputes and mediation is not an option, your divorce may take anywhere from 6 to 18 months. Both you and your spouse will need to hire lawyers, and they will be in charge of your case further.
Where to Get Columbus Divorce Forms?
Information about Columbus divorce papers can be found on the official website of Muscogee County. However, if you visit the website, you will see a disclaimer that states that you should use these forms at your risk as they can be outdated.
The thing is that courts in GA release updated versions of forms from time to time. In this case, it is best to review and research statutes to make sure that each Georgia divorce form you download is up-to-date. However, even if you find the information on such updates, you will not necessarily find the updated forms.
Therefore, if you're struggling, it might be best to let either the lawyer or an online service take care of the paperwork.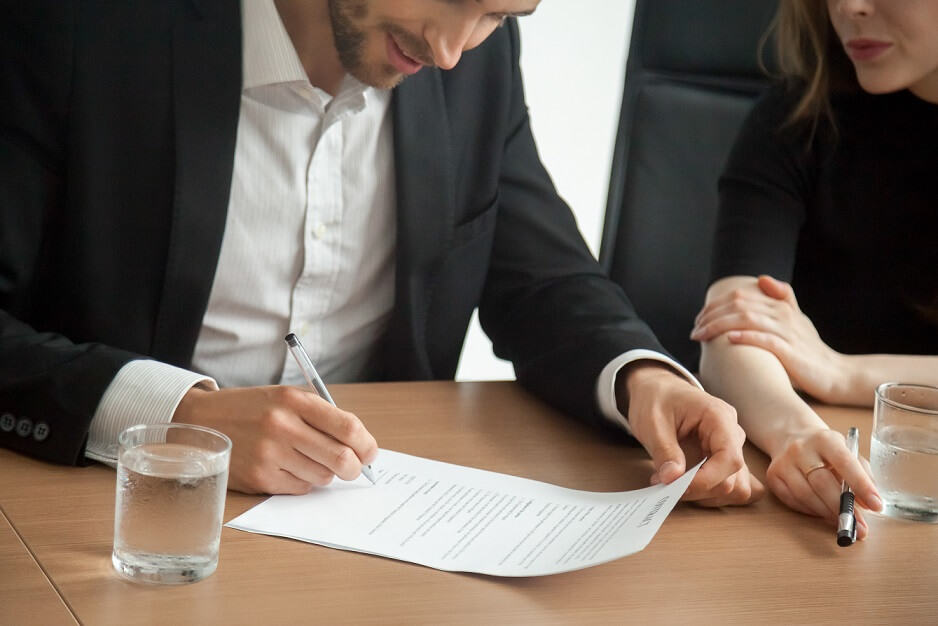 How To Fill Out Divorce Papers?
If you decided to fill out divorce papers in Columbus on your own, you should be extremely careful:
Answer all the questions as accurately as possible. For this purpose, you will need to have all the information about your spouse readily available.
Make sure you understand the question. If the terms or phrasing are confusing, it is worth researching them.
Be honest and do not attempt to hide or skew the information, as you may be held liable for it in court.
Check if you are the one to fill out certain fields. Some of them might be designated for a clerk or a notary.
Double-check the information with your spouse. Whether it's their personal information or a decision you have reached on a specific matter, it's best to make sure you're providing the right answer.
Additionally, you should always review your forms before printing or filing them. Even if you noticed a mistake after printing the papers, refill it now before the court rejects it when you try to file.
Where to File for Divorce in Columbus?
You will have to file for divorce in Columbus Superior Court. This is the local court that hears family law cases. It will be necessary to take all your paperwork and the court fee and give them to the Columbus clerk of court.
Filing for divorce in Columbus, it is necessary to:
Make sure that either you or your spouse are residents, i.e., lived in the state for at least half a year.
After completing the paperwork, print and sign it, as well as make a few copies.
Bring the forms to the court clerk. They will take the originals and provide you with the stamped copies.
Serve the spouse. Georgia divorce laws require that you or the sheriff give your ex the stamped copies of the documents you filed.
Schedule the date of the hearing with the clerk after the waiting period is over.
Attend the hearing if necessary and answer the judge's questions regarding your paperwork and family situation.
Wait for a judge to sign the Final Judgment and Decree of Divorce.
When to Find a Divorce Attorney?
You will likely need a divorce lawyer in Columbus in the following cases:
You cannot reach an agreement with your spouse, or you believe they will contest the case.
Your spouse has a lawyer or has approached you with an offer you are not sure about.
You believe your spouse may be hiding assets or manipulating your joint accounts.
There were cases of abuse in your marriage, and you need protection.
You have children, and either your spouse or other third parties will fight for their full custody.
Your spouse is in prison or is nowhere to be found.
A Columbus divorce attorney will likely charge you around $250-350 an hour, and the final sum will depend on the length of your divorce proceedings.
Note that when you and your spouse are in agreement, it's not necessary to hire a lawyer. You may do so if you would like for someone else to take care of the whole process and do not mind spending a few thousand.
What Really Happens at Court?
In general, there are two common scenarios that a family court in Columbus, GA will follow:
If your case is uncontested:
Check whether you need to be present at the final hearing, as this requirement differs across the state.
If your presence is a must, visit a brief hearing with your spouse.
Come early, dress appropriately, and follow the directions of the clerk.
If the judge has any questions, answer them.
Wait until the judge signs the Decree finalizing your divorce.
If you initiated a contested case:
It means that you have some irresolvable disputes, and you need to be ready to visit the court multiple times along with your lawyer.
During the trials, your lawyer will argue on your behalf and call expert or civilian witnesses for testimonies if necessary. Experts such as a child custody evaluator or accountant that will testify in front of a judge will have to be paid for their services.
The case will last until the fair verdict can be reached after hearing both sides in this proceeding.