If you are thinking of getting a divorce in Atlanta, you have to understand how the divorce process in Georgia works and the dos and don'ts of it. This will have a huge influence on the length and the price of the overall process, and this article will show you how to avoid any potential pitfalls.  
What to Consider When Going Through a Divorce in Atlanta?
The simplicity of your divorce will highly depend on your ability to communicate with your ex-spouse. Before a divorce can be initiated, you will have to set aside all the grudges and try to reach a peaceful agreement. This is especially important if you cannot afford to engage in a contested divorce with lawyers, which costs a real fortune and can last for years.
Being in agreement means settling down any disputes concerning child custody and support (if you have minor kids born during your marriage), property division, and alimony (if any is needed). All of this makes it possible for a couple to make a Settlement Agreement and file for uncontested marriage dissolution.
How Quickly Can I Process My Divorce?
It depends on the type of marriage dissolution you are filing for. If your case is contested, be ready to visit numerous court trials that may last for months and arrange various meetings with a family law attorney to get ready for each court appearance. If you want to get a quick divorce, a contested one will not be fast.
If you and your ex managed to get along, it is good news as an uncontested divorce in Atlanta will definitely take less time. In fact, all you have to do is file and wait for a mandatory Georgia waiting period for divorce to pass. According to state laws, it takes at least 31 days. However, it might take a bit more before you can get a court hearing if the court is busy.
Where to Get Atlanta Divorce Forms?
Finding and filling in Atlanta divorce papers is an important step, which takes a lot of time. You can find some of the forms on the Web. However, there might be difficulties with finding all the necessary ones. The thing is that it is quite hard to collect all the papers without legal background and knowledge of official legal resources.
Besides, you will have to be sure that they are up-to-date because Georgia courts tend to update their forms almost every year. Finally, every Georgia divorce form should be filled in correctly in order to avoid any problems later in court. Therefore, to be on the safe side, it might be better to get the paperwork from a lawyer or a trusted online service.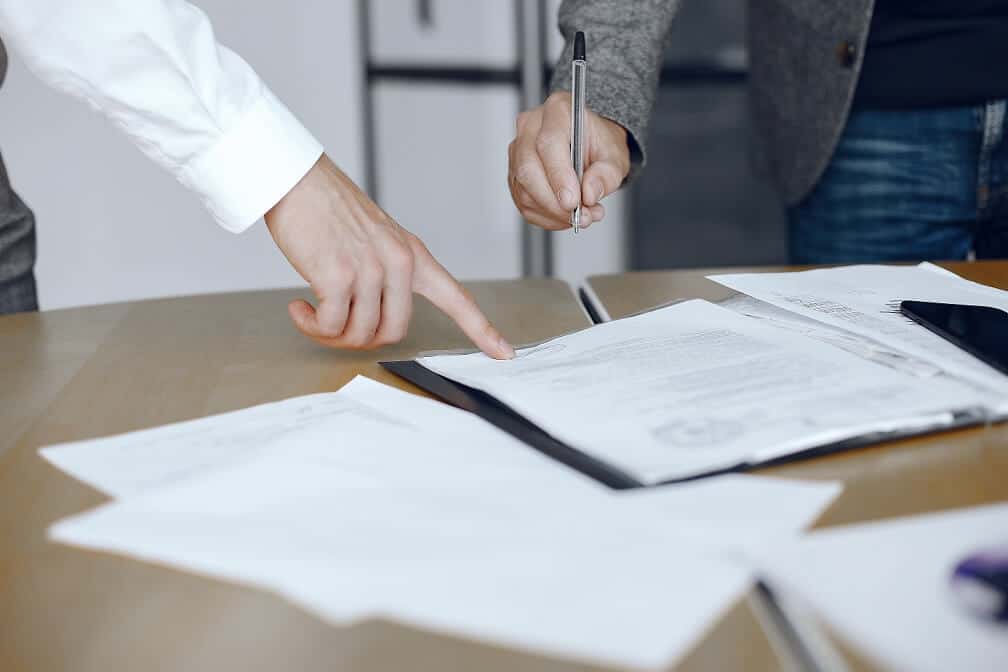 How To Fill Out Divorce Papers?
Here are some tips on how to fill out divorce papers in Georgia:
Make sure that you have got the correct and full packet of forms on your hands.
Do not just recall the dates and names – use official documents to confirm they are right.
Even if certain information looks too private to share, it is still required and cannot be skipped.
Proofread all your forms to make sure that you haven't made any spelling mistakes or haven't left any of the mandatory fields blank.
Do not touch the fields that need to be signed by a lawyer, if any, a notary, and a clerk.
Note that some papers can only be signed in the presence of a notary public.
Do not forget to make copies of each form: for you, for your spouse, and certain agencies need be.
Where to File for Divorce in Atlanta?
Here is what you need to remember when filing in Atlanta:
A person initiating a divorce in Atlanta has to file the forms in the local Superior Court. The address of the court of each county can be found online.
The papers must be filled strictly with the city of Atlanta clerk of court. The petitioner must also pay the filing fee of $219.
Before going to court, you may contact the clerk to inquire about the payment and filing options.
To file for divorce in Georgia, you need to:
Check whether you and your ex meet the residency requirements of the state. According to Georgia divorce laws, your or your ex-spouse must have lived in the state for at least six months before filing.
Collect and fill out all the case-specific divorce forms. Print and sign them- some in front of a notary if necessary.
File the paperwork with the Superior Court of Fulton county. The clerk will assign the number to your case and give you back the copies of the documents to give to your spouse.
Serve the spouse. In Georgia, if you cannot do it on your own, you may hire a process server or a sheriff. You may pay $58 at the court when filing for the sheriff to serve your spouse.
Arrange the hearing date. Contact the clerk to set it and attend the hearing so that the judge can make sure you and your spouse stand by your agreement.
Wait for a judge to issue the Final Judgment and Decree of Divorce.
When to Find a Divorce Attorney?
No matter what kind of divorce you plan to file for, there are some situations when you will likely have to hire a divorce lawyer in Atlanta:
You have a hard time with the divorce paperwork. Atlanta divorce attorney will know exactly what forms to choose and will take care of them for you.
If you and your spouse have trouble reaching an agreement, you will have to have a lawyer on your side to oversee the case.
In case your spouse has already hired a lawyer, you will have to do the same to defend your interests.
If you are afraid that you may lose custody or property, an attorney may help to prevent it.
If you plan to work with an attorney, you need to take into account the fact that the average fee is $270 per hour, so you will end up with a pretty hefty bill even if you only get help with the forms. In case you want cheaper assistance with your paperwork, an online service might be a better option for you.
What Really Happens at Court?
Family court in Atlanta, GA, takes care of all divorce proceedings. What is going to happen during the hearings depends on the type of marriage dissolution the couple filed for:
Engaging in a contested case, the couple has to be ready for numerous trials. During these hearings, they will have to reach an agreement about child custody and support, alimony, and property division with the help of a lawyer or by the judge's decision.
Hearing for an uncontested divorce is usually short and straightforward. The judge will only check if the paperwork is in order and if the Settlement Agreement is in the best interests of all the parties involved. After that, he or she will enter the final divorce decree. Besides, it is advisable to clarify with your court clerk whether you need to be present at the court because this requirement varies from county to county.